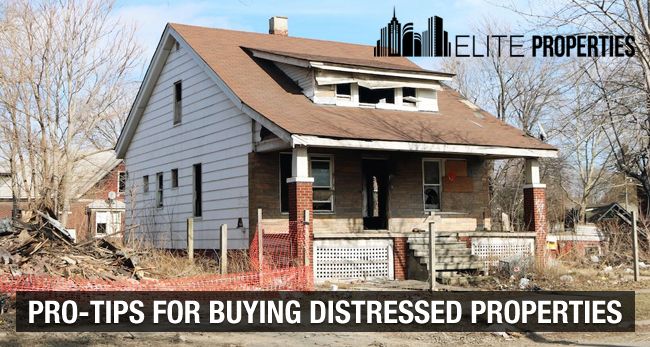 Buying distressed properties can be enticing for buyers and potential investors as they can avail these properties in the least amount of money spent. Investing in distressed properties can be a fruitful deal for house-flippers and rehabbers because they invest just a little capital to get maximum returns from the sale. Although it is extremely important to understand the know-how of the particular topic.
If you are planning to buy or invest in distress properties you have chosen the right bay we are here to enlighten you, and also share some pro-tips for buying distressed properties.
Find Properties Around The Locality
To find properties it is advisable to start with the locality, there are some things you'll have to look for while buying a house. Signs like -
Overgrown plants around the property
Chapped exteriors that need new painting
No electricity or electricity supply
Legal notices pasted on doors
Newspapers or deliveries lying outside of the home
These are some signs of how you can identify a distressed property. Once you know the location and pick the house of your choice, you can get in touch with a local tax assessor for extracting information about the whole property. Some homeowners keep their information accessible with a note of 'To sell' or 'Available for sale' with a phone number so you can easily get in touch with them.
Invest In A Good Neighborhood
Buying a home in a good neighborhood is always essential for futuristic planning if you want to further sell it; a healthy neighborhood will eventually become the point of focus for buyers. If you find a place that has a gloomy neighborhood the chances of people buying the home is naught also, the probability of regaining a lively society is next to impossible. On the other hand, if your house is in a good neighborhood it will be sold faster and a large bunch of people would invest in it.
Walk-Through Of The Distressed Property
A walkthrough is an important aspect before buying a distressed property, it ensures the conditions of the house and gives you a brief of required upkeep. The buyer eventually is liable to make the repairs and examine other prerequisites of the property in case of resale scenario.
A specialty home inspection also comes in easy reach while talking about distressed property. The inspector will keenly examine the home and enlist all the potholes that need to be filled. He or she will also provide you with a detailed estimate required for the maintenance and further repairs although, it is advisable to keep aside a fair amount of 20% to cover the expected and non-expected repairs to avoid havoc of mishaps.
Know About The Local Laws About Foreclosure
You should also comprehend the laws of the locality; if you are residing in New York purchasing a distressed property could be much more time-consuming than expected, in some places the judicial process can take up to 12 months while in other states lenders will close the deal in less or in about 60 days. Hence, buying a distressed property in New York can be a tough task in itself.
The foreclosure laws tend to vary from state to state, as a prospective buyer you are required to your due-diligence beforehand. Additionally, the processes may also vary due to the constant changes in law or jurisdiction. It is always advised to get in touch with a lawyer before proceeding with the process of buying distressed properties.
Seek Professional Help To Cut Down Time
Distress property buying process includes a lot of chaotic situations which wastes a lot of your time. In many instances, it takes months to settle a deal because there are more parties involved other than the homeowner. In such cases, it's advisable to hire a real estate agent experienced with distressed sales, who will help save your time. A specialized real estate agent knows all the technical know-how related to the topic.
Primarily, you should limit yourself to foreclosures because short sales might show a scarred credit score which is never good for a homebuyer or an investor. However, in short sale, possibilities of properly maintained properties are higher since the homeowner controls it and is encouraged to sell at a good price.
Keep Finances in Place

The most important part before buying a distressed property is to get a pre-approved mortgage as lenders or the third party (banks) will only accept serious offers or investors. As a point to shed light on, this is a very competitive market, investors and house-flippers will buy distress houses as-is and rehab it to sell it to bigger property management companies for a better cost. These people mostly make an all-cash offer here, you'll have to put forth pieces of evidence of how you are reliable as a buyer for the bank or lender to accept your proposal.
There are some more things we'd like to shed light on as a disclaimer-
If the house is in a really shabby condition, there are zero chances that the bank will get you pre-approved
You might want to spend more than expected funds in the property if it has a wide and long list of damages
In worst case scenarios you'd have to opt for a second loan to cover the repair costs
If you find getting pre-approved is a task tagged impossible you could consider other lenders or lending sources like credit unions or regional banks; these people pay to people who have a flawed credit score
Opt for FHA loans that require down payments with smaller digits
Conduct a due-diligence to determine credit lien or taxes are filed in contradiction of the property to ensure you don't suffer through any catastrophe

We Buy Houses Any Condition

Companies that buy houses for cash could be a savior to you. Companies that buy houses as is are a lot easier to work with they buy your worn-out property and flip it later, post flipping they sell remodeled houses for a better price to interested buyers or investors. When you choose these companies you don't have to worry about the paperwork and legal procedures including the repair and improvement costs. If you want to buy distressed properties from such home buying companies they will present you with an all-new version of your dream home with no repair required.

Last Words, Before You Make an Offer

Now, when you know the fundamentals of buying a distressed property rest assured you will make the best offer with all this knowledge in your pocket. Keep in mind putting money on a distressed property would not be your ideal plan but it will certainly give you maximum return after carrying out the extensive repairs. If you find yourself stuck in any other real estate crisis feel free to get in touch with us at 'Elite Properties' we promise to cater to all your queries and provide you with best possible solutions.