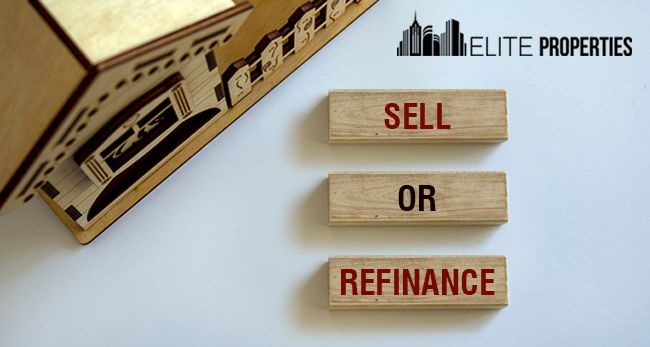 It's hard to resist the 'sell your house' ads in your mail and also the frustration of mortgage repayments. Keeping up with monthly mortgage repayments can be a tough task. If getting a new loan to cut down the expenses your next thought? You might want to reconsider your options.
The pandemic had a hard hit on everyone, with people losing jobs and it is tough to manage expenses. Refinancing your mortgage can shorten the life of your current mortgage and also provide lower interest rates. It can significantly lessen your monthly mortgage payment although, selling your home makes more sense if you're unable to manage the monthly installments. If you are confused between to sell your house or to refinance? Choose what is best for you by reading the blog below.
Possible Reasons To Refinance House
Refinancing is a process where you replace your existing mortgage with a new loan. People usually refinance their mortgages to get a new one for lower interest rates and reduce monthly payments. There are many reasons for homeowners to refinance some of them are listed below.
To Lengthen Or Shorten The Mortgage Term
Refinancing can help you lengthen the mortgage term which allows you extra time to pay off your loan. It also lowers the amount you are entitled to pay every month. Refinancing also helps in shortening the mortgage term. When you increase your monthly payment you repay faster and save the running interest amount. This way you own your house faster and save thousands on interest.
To Change The Structure Of Your Loan
If you have an Adjustable Rate Mortgage (ARM) and you're past the fixed period, your monthly interest rates may vary significantly. You can refinance the ARM to a fixed-rate loan which will make your monthly repayment and expenses predictable. Changing the structure of your loan gives you the control of your monthly expenses.
To Change The Type Of Loan
Homeowners refinance their government-backed loan to conventional loan as they build equity. If you pay 10% of the down payment for a Federal Housing Administration (FHA) loan, you are entitled to pay the mortgage insurance premium. Although, when you build a 20% equity on the conventional loan, you can get away with the private mortgage insurance.
In cash-out refinance you replace your old mortgage with a new one with a higher balance. The difference between the old and new mortgage is paid in cash to the homeowner at much favorable terms. As these mortgages have higher principal and low-interest rates it can be used for almost anything like paying off debt or getting new purchases. 
Look For Available Options
Considering refinancing as an option but want to sell your house in the coming future. So why not look at some options? Before jumping to conclusions.
A Loan modification is less expensive than refinancing. When you choose to modify the loan your lender agrees to make changes on mutual terms. It consists of changing your monthly repayment amount, interest rates and your term. In rare cases, the lender might also reduce a chunk of principal from the amount. So, if you are facing financial difficulties this might be an ideal option for you. 
No-Closing Cost Refinance
While applying for a refinance, lenders usually offer you a no-closing-cost refinance. By picking this option you merge your closing costs in the principal of the loan. In a no-closing-cost refinance you pay a higher interest rate and pay nothing while closing.
It may sound enticing although, you'd end up paying closing costs on the term of your loan anyway.  However, if you are selling a house early you might only pay a few dollars. A no-closing-cost refinance may be beneficial when you cash out your equity. It provides financial aid if you are selling your distressed home.
Choose To Hold Off On Your Refinance
It is always better to skip a home refinance if you are not planning to stay in it for long. It makes sense to hold off on your refinance when circumstances aren't much favorable. Calculate the time you'd be living in the house to earn the money back from closing.
Sell Your Home For Cash  
Refinancing your home may be flexible but in some cases, it may not be an ideal option.  If you are selling your distressed home, refinancing may not be worth it. Selling your home to a cash buyer is a better deal you can sell remodeled houses to Elite Properties New York and avoid the hassles of refinancing. Elite Properties is a 'we buy houses for cash company', which means we buy houses in any condition. You can sell your house fast for cash in NY and close the deal in less than a week. We buy property for cash and also pay the closing costs, which allows you to move faster with your plan. Call us today on 718-977-5462 to know more.