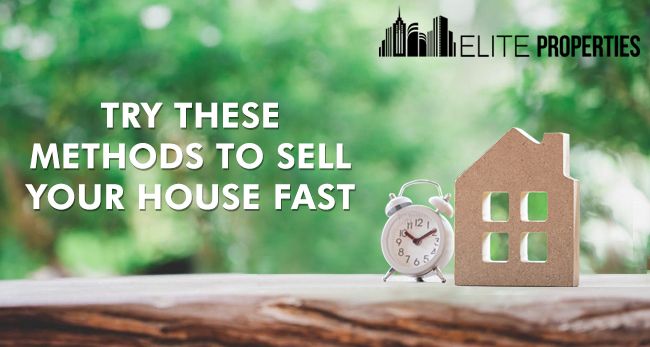 Listing your home and waiting for it to sell is a tedious task. Home selling can take up to a few weeks to a year depending on the condition of your house. If a house sits on the market for more than a month it loses its value. People consider it a negative sign thinking the house may have certain defects making it unsellable. If you think your house has been sitting in the market for a long time you may try these methods to sell your house fast.
Set A Realistic Price
Setting a realistic price of a house is a vital step towards faster home selling. High-pricing is the most common mistake made by home sellers. Setting a realistic price for your home is a big challenge. It is recommended to take professional help before fixing the price in alignment with the fair market value of the house. 
In such circumstances, you may consider slashing the price of your house. It is advised to wait for three weeks to a month before dropping the price of your house. The National Association of Realtors state around 40% of home sellers reduce the price of their properties at least once. You must be thinking what is the exact amount to attract buyers? There is nothing like a precise amount but you may consider reducing a significant amount from the total value. Although, deducting some thousand dollars may help gain attention to your house.
Lack Of Staging
For a buyer to buy any product or service, it should be appealing to the eyes. Similarly, for houses, it is an essential aspect to stage it properly to make it appealing. A staged home will sell fast for cash than any other house. While listing your home in the market make sure you stage it nicely to entice potential buyers. You can take some ideas from Pinterest or hire a professional stager to make the work easy.
Consider Making Improvements
Curb appeal will make faster sales. When you do improvements in your house just before listing it gives a good impression on buyers. Enhancing the interiors of the house requires staging, similarly, the exteriors need enticing curb appeal. Having mold-infected exteriors, untrimmed lawn, leaking pipes, etc. may result in delayed sales. The fix here is to carry out an improvement session to address the basic problem areas of your house.
Bad Quality House Pictures May Delay Sales
Nowadays buyers prefer viewing properties online instead of stepping out for house hunting. The National Association of Realtors state that around 87% of buyers find online listing useful. If you have listed your home online and it still isn't selling, the reason might be poor pictures. Make sure your pictures are not blurry as you'll be uploading them online for potential buyers. You can click pictures yourself or hire a professional photographer. 
Avoid Selling Your House In Winter
Winter is the slower time of the year where the sales are typically low.  It is a holiday season where people move out of the cities for social engagements or go on holiday to warm places. There are chances that your house may take longer to sell or you may have to sell for a lower price. It is advisable to wait for winter to pass on instead of selling in this period. Although selling your house in winter is not an ideal situation; you can still sell it to buyers who are on a house hunt.
Keep Renting As An Option
If you're having a hard time selling your house you can try renting. When you rent your house it promises monthly cash which is a good option when you are running out of savings. If you have moved out already and have the pressure of paying two mortgages then renting can be an ideal option. It will allow an ample amount of time and aid in saving money in the future.
Sell To A Cash Buying Company
If you are running out of time and are looking for a solution you can contact companies that give cash for homes. Elite Properties is one such company that buys remodeled houses New York. We close a deal in as less than 7 days, which makes you move with your plans at a faster pace. Selling your house to a cash buying company promises faster sales with no hassles paperwork.