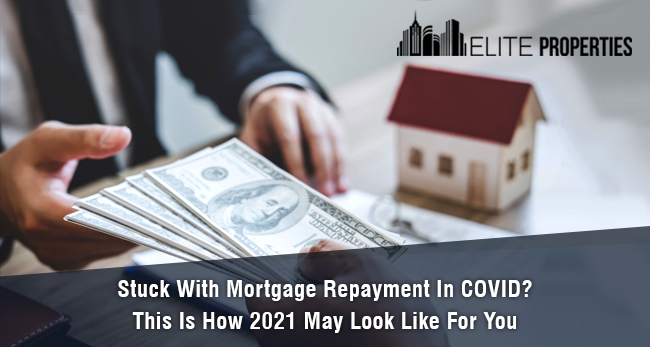 The year 2020 was a rollercoaster ride and repayment of mortgages came along with its problems. Many homeowners who opted for the government-backed mortgage programs missed taking its advantage. This made them lag behind their mortgage loan repayments. As the suspension of the programs is closing, people are stuck in rut thinking about how would they satisfy the outstanding payment? If you are one of them who are stuck with mortgage repayment in COVID? This is how 2021 may look like for you.
Act Fast To Avoid Foreclosures
If you are one of the homeowners who are facing a financial crunch during the coronavirus pandemic you'll have to act fast. At the beginning of 2021, you may have to make use of your credit or the built-up equity to save your house. This may save you from being evicted from the house but it won't suffice in the longer run. If you are considering these options try and do proper research before diving in. You can also choose to have communication with lenders and figure out a solution to avoid foreclosure. 
Additionally, you can also contact we buy houses for cash companies and sell your house to them. This way you save your equity and the remaining sales amount in hand that will help you start afresh.
Investing While Moving Out May Not Be The Best Decision
If you are planning to list your home in the market it may come with additional costs. While the situation is already tough, listing your home will require many thousand dollars to close a deal. If your house is in a good condition you may get away without spending any money on the improvements. When your house is in a bad condition and requires a lot of work, it is better to sell it to a cash buying company.
If you opt for the traditional estate sale process New York, it will require agents, staging inclusive of closing costs and commissions. Choose your options wisely as staying afloat during the crisis is important without bearing the loss of your property. 
Consider Selling Your Property As-Is
Let us say 2021 is going to be tough as far as repayments are in the picture. The traditional home selling process will be a tedious task and will come with a huge budget. Owning a home in America is a dream for many and when you sight losing it, it's heartbreaking.
To survive the financial catastrophe and avoid foreclosures you can contact Elite Properties New York or call us at 718-977-5462. We will buy your house as-is with no required paperwork and give you hard cash in return. Additionally, we also pay the closing costs with no hidden fees and extra expenditures. We provide you with the fair market value of your property and close the deal in less than 7 days. This way you pay the outstanding mortgage and invest in another home.