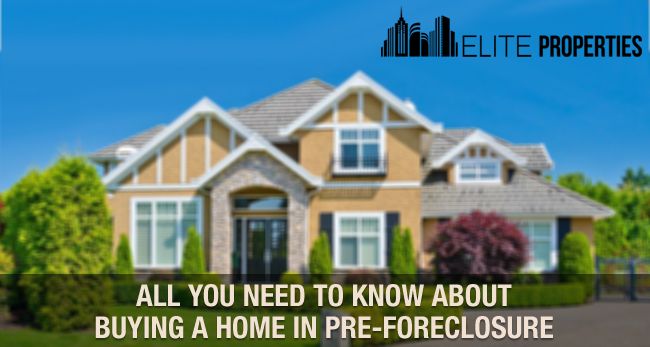 Even though the prices of real estate properties in the New York are rising steadily, it is still possible for an average American to achieve the dream of homeownership by opting for 'pre-foreclosed homes'. Homes in pre-foreclosure are accessible at much lower rates than its actual market value. So, if you are looking to buy a property at affordable rates, home in pre-foreclosure can be a good financial deal for you. However, a realistic approach is necessary to make a financially sound decision.
Pre-Foreclosure Basics
Most people get confused between 'foreclosure' and 'pre-foreclosure'. Well, there's a thin line between the two. Foreclosure means a legal procedure that occurs when a borrower fails to repay the loan amount to the lender. The lender either sells the home in a property auction or takes the complete possession of it. Whereas, a pre-foreclosure ensue when a homeowner falls behind on mortgage payments. Generally, the pre-foreclosure period starts when the homeowner misses three consecutive payments and the lender issues a default notice to the home buyer asking to pay the debt. During this grace period, the property owner has two options, either he/she has to pay the debt within a specified time frame or sell the property. Therefore, pre-foreclosure can be considered as the initial stage that might lead to foreclosure.
Is it worth buying a Home in Pre-Foreclosure?
There's a common misconception between most Americans that pre-foreclosure properties are only available in distressed condition and in an undesired neighborhood. Well, pre-foreclosure has nothing to do with the locality and its condition. For instance, a businessman invests in a real estate property located in a posh area of NY and unfortunately suffers a huge loss in business that leads to the failure of the mortgage payment. Regardless of the fact that he's a businessman the property is bound to enter the pre-foreclosure phase. To be honest, financial setbacks can happen to anyone. Homeowners who go through such hardships usually prefer to sell their properties even at discounted rates. Otherwise, the property will completely slip off their hands and fall prey to the foreclosure process. So, you can actually get a good deal by investing in pre-foreclosed property.
Benefits of Buying a Pre-Foreclosure Property
Here are the major benefits of buying a pre-foreclosure property.
Less Competition: Competition is less since most properties are not listed.
Quick Buying Process: Simple and quick home buying process as most homeowners are desperate to sell the property as early as possible to avoid foreclosure.
Great Deals: You can negotiate and buy the property for less than its current market rate.
Better Neighborhood: Chances of getting property in a better neighborhood.
How to Buy a Pre-Foreclosure Home?
Here we'll discuss how to buy a pre-foreclosed property.
Find Pre-Foreclosure Leads
First and foremost you need to find legitimate pre-foreclosure leads. It might be a daunting task as most pre-foreclosure properties are not listed. So, roll up your sleeves and start by preparing a list of areas where you want to have a home. Once it's done, you can make an analysis by reviewing public records or local newspapers and then visit those areas personally to find out pre-foreclosed homes. This will give you a fair chance to check on the property as well as the neighborhood. However, if you want to simplify this process, we suggest you hire a 'we buy houses for cash' company.
Research the Neighborhoods
Shifting to a new home is a long-term commitment. Therefore, a good neighborhood is equally important as the home you want to move in is. So, do research about the neighborhood without fail. Look out for nearby schools, hospitals, banks, transportation facilities to avoid problems in the future. In addition to this, you should also closely inspect the condition of surrounding homes and buildings.
Find an Authentic Lender for Receiving a Pre-approval Letter
Finding an authentic lender is one of the trickiest aspects of buying pre-foreclosed homes. What happens is, you may want to buy a hot property worth $500,000 but, the lender may approve only $300,000. To avoid such unfortunate events, getting a pre-approval letter from the lender is necessary. A pre-approval letter is basically a legal document that helps you understand your maximum borrowing amount. The precise amount is calculated on the basis of your gross monthly income and debt payments. Therefore, you can actually decide your budget only after getting a pre-approval letter from the lender. Apart from that, it'll also depict that you are qualified for buying the property.
Important Documents You'll Need
You must possess the following documents in order to get the pre-approval letter in a hassle-free way.
Driving license
Credit report
Two pay stubs that reflect year to date earnings
Two years of tax return report
Recent bank statements
Sometimes, you might need to submit some other official documents. So, it's always better to consult a real estate agent in NY to understand everything in details.
Of all the pre-foreclosed homes that you've seen, you must narrow down your search to a few homes. Visit each of them personally and do an inspection. You can also hire a trustworthy home inspection officer to ensure a right decision. This procedure will hardly take a couple of hours. Monitor everything minutely including the electrical system and plumbing. Then, choose the one that fits your budget and have the desired amenities.
Making an offer is easy once you have a preapproval letter in your hand. You'll know your financing options, and thus, you can outline the budget accordingly. Contact your real estate agent in New York and discuss how much you are willing to pay for the pre-foreclosed property. Your real estate agent will take your proposal to the seller. If your seller accepts your offer, then you'll need to make a purchase contract.
Financing commitment is a crucial step. To get the specified loan amount you'll have to send the purchase contract to the lender. The lender will examine the contract and ask you for the following set of documents before issuing a commitment.
Mortgage application
Property details
A complete list of assets and liabilities
Property appraisal
Application fee (May differ from individual to individual)
You can close the deal smoothly by following the above legalities.
Bottom Line
Buying a pre-foreclosure property is not just a safe financial investment but also an opportunity to have homeownership in New York. Be patient and refer the above guidelines to understand the technicalities of buying a pre-foreclosed home. Further, you can also contact 'Elite Properties', which is one of the most trustworthy real estate companies in NY for more experienced advice.