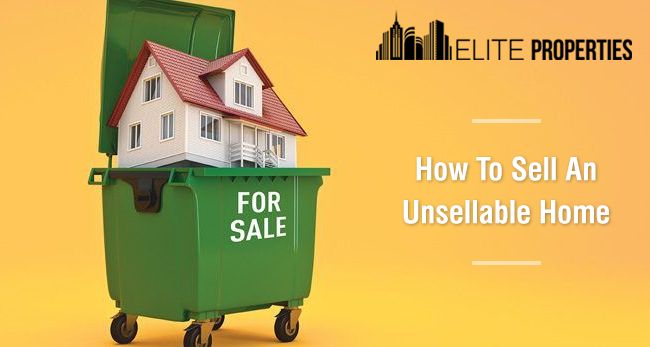 If your house isn't selling, it can be a big problem and a matter of extreme stress to homeowners. If it has been sitting for a long time in the market, it will ultimately lose its value. Simply tweaking your marketing skills and changing your home selling process can favor you a lot. If you think you've tried everything, then think again or scroll down below and go through the 7 Tips On How To Sell An Unsellable Home.
Postpone The Home Selling Dates
Setting the right time to sell in the market is extremely essential as the price you may achieve certainly relies on it. It is a known fact that real estate is majorly a seller's market and you'd need to know about the pattern of selling homes. There is a certain time of the year where the sales are highest, spring is the ideal time to sell your house or put it on the market. Whereas, winter is the time when the sales are comparatively low. If you're not up for the seasonal sale pattern then there's another way where you can wait for the inventory to drop and then put your home on the list.
Try Selling Your House Under The Market Price
Mispricing your home can be the easiest mistake you can make while listing your home, so the ideal way to entice buyers is by selling your property for a lower market value. Buyers or real estate investors are always on a hunt to find houses that are priced for less than their fair market value, this kind of sale is also known as 'fire sale' according to the real estate lingo.
This might not be your ideal choice but in this state of utter despair this might be the most enticing option for you. As investors are constantly looking for such deals, some companies might actually surprise you by buying your property in as-is condition for a fair price. Try selling your house to 'we buy house for cash' company; Elite Properties New York they will buy your house in any condition and additionally offer you a no-obligation offer.
Consider Deep Cleaning, Improvements And Curb Appeal
A clean house will always sell for a huge profit, keeping in mind the functional aspects of it. Fixing serious issues like your electrical and HVAC system will work wonders if they were in a rough condition. Plumbing, windows and checking for leakages from roof or sewage pipes are important points to remember. Make sure all the functional aspects of the house are covered before selling. If you're not able to cover the improvement's expense then include it as an incentive with the house.
The next important thing to focus on is the curb appeal of your house. If a home isn't good-looking from the outside it's never going to sell. You can counter the easy and less pricey things first and then move on to the costly improvements as and where needed. Just by cleaning the sidewalks, mowing the lawn and cleaning the exteriors of your house can make a visible difference.
It's all about the virtual world these days; the easiest way to list your home on the market is by putting it online for people to take a view. Adding to the rest, the results will only show if you market your home right. MLS or Multiple Listing Service can be extremely handy once you choose to put your home online, this particular service enables you to find the right buyers on a wider platform.
Good marketing is equivalent to profitable sales so while listing your home make sure you're putting out precise information for prospective buyers. Click sharp images of your complete house and also try making a video from the entrance to each room for a better perspective to buyers. A buyer would possibly skip pictures but not a video; make sure the quality of your video is clear, crisp and shot in bright light.
Documentation Of Property Is Essential
If you're putting your home in the market it is important for you to keep complete written information about your property and the changes made or required in the coming future. Keeping an updated information about your property will help you in an easier sale and would promise better profits. No matter your house is in whatever condition it will always be sold for a fair price if you've been transparent with the potential buyer.
Think Through A Short Sale
This might be your last option to reach the final results and achieve a fair price on your property. In most cases statistically quoting; people end up owing more than the property's worth which is practically impossible to remunerate. There are cases where most of the lenders (in case you have an outstanding mortgage) may or may not agree for a short sale additionally, not every seller will qualify for a short sale. In such circumstances it is best to opt for a short sale although it is important to do your research before diving in.
Sell Your Home For Cash To Elite Properties
Going through a mortgage, debts, improvements and top of it selling an unsellable house can be a lot to bear. In such an unfortunate condition your first option should be selling your home for cash to cash buying companies in New York like us. Selling your home for cash to us might be a boon in an ugly situation. We buy houses as-is which means you are saved from the hassles of making repairs. We close the deal in as less as 3 days which means you can take your money and repay your debts in no time.
We guarantee a fair all-cash offer with an additional no-obligation offer where you can terminate the proposal and you won't have to pay any commission. If the deal is finalized we'll also pay the closing and associated fees, so what is stopping you? Sell your house for cash to us and we'll promise you a profitable all-cash sale. Call us on 718-977-5462 or visit us at Elite Properties to sell your house today.