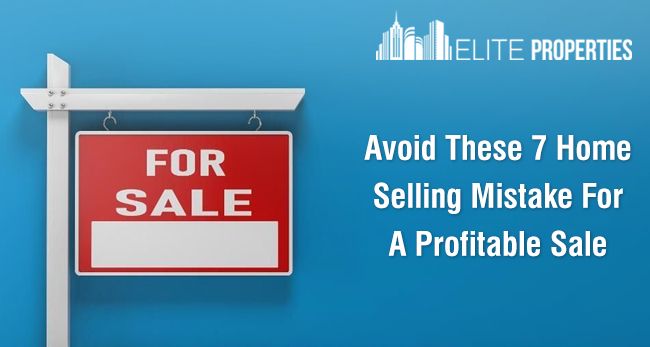 Selling a home is an arduous task, it requires a lot of time, effort and money. As easy as it looks, it becomes more challenging with each progressing step. Some homemakers make home selling process seem like finding a needle in the haystack, whereas it is a laid-back method if you avoid these 7 home selling mistakes for a profitable sale.
There are innumerable home selling mistakes that homeowners make, and very often they are common with every house and house owners. If these mistakes can be prevented there is a possibility of a homeowner to increase the yields of the sale by raising the profits by half or more. You must be thinking what are these mistakes? And how to avoid them? The answer is; we will brief you with all the home selling mistakes, so you have a guaranteed sale. If you are a first time home seller then scroll down below for the insights.
Incorrect or High Pricing of Home
Incorrect pricing is the topmost reason for home sale fall through. No matter how emotionally connected you are with your property, the truth is; a home will never be sold if priced incorrectly or high in that case. For you, your property might be the best one, although for others it may be just a functional piece with less or more amenities. It is important for you to detach the emotional ride and adapt a perspective of a potential buyer, and look for improvisations.
A competitive price will always attract potential buyers, this does not mean you have to set a lowballed or a high offer. A high price will drive away buyers whereas a low offer will make them lose interest in the house, thinking the property may have defects.
The Mistake of an Unprepared Sale
Another mistake home sellers make is neglecting necessary repairs; you can't sell a home that has sewage issues or a leaking ceiling. Remember the first impression is the last impression and the same applies in real estate as well. A buyer can and will pay a high price if your home looks beautiful and is fully functional.
The first thing to keep in mind before you proceed with the walkthroughs is to make repairs wherever necessary.
Second, enhance the curb appeal of your house; mowing the lawn, painting the walls, cutting excess growth of plants, little things like these will go a long way.
The third thing is to do optimum staging, staging your home can make anyone fall in love with your house. Light scented candles, paint neutral colors to the wall, put DIY handicrafts, keep pets away don't let clutter dominate the beauty of your residence.
It is very easy to negate such issues, but a little or so these concerns might blatantly cause a fall through of sale. Not preparing your home according to the prerequisites of a walkthrough might be your last mistake. While you are letting others in, make sure you show them each corner of your home.
De-cluttering your home, vacating the congested spaces and staging are some pro tips for a successful walkthrough. By doing so you are improvising the sale proceeds as well as making a good impression of yourself and the home in the eyes of the buyer. Make sure you show each niche of your house so that no stones are left unturned. Highlight the dead spaces so that they can create something of their own and design the place according to their taste.
Not Being Flexible With Showings
The fact is undeniable that walkthroughs or showings do require time and effort. Potential prospects must feel warm and welcomed as soon as they enter your house, no visitor would want to see a shabby house with stuff scattered everywhere. If you can't schedule your timings according to the prospects, you're in a big loss. There are going to be tough and rigid timelines but being flexible is the only way out, a little time can turn into a big profit someday. Plan your day according to the visitor's timeline so that the process of walkthrough can be easy and stress-free.
Not Maintaining Transparency with Potential Buyers
Another home selling mistake is being dishonest with buyers. This is the main cause of fall through of sales, evidently because homeowners hide about the conditions of their house. There are a lot of aspects that fall into a good sale unfortunately being opaque is not of them. To avoid this mistake you can create a complete documentation of done repairs, repairs required and money spent altogether inclusive of insurances and taxes so that the buyer is convinced that there are no issues lurking beneath the surface.
Proper disclosures are really important while selling your home; in some states being dishonest with buyer can fail your sale and lead you to a lawsuit which means a trouble forever. It is advisable to talk to the prospects and guide them through the nook and corner of even the ugliest areas. 
Avoiding Flexibility with Negotiations
It's always good to have an open mindset while you put your home in the market. Negotiating terms before selling your home might give you a profitable sale. Try melting the terms mutually, being stubborn and asking for higher price might lead to a major loss. 
You're Probably Listing at the Wrong Time of Year
While home selling is carried throughout the year, there are still some perks of selling it at the right time of the year. The question is, what is the appropriate time for selling your house? The answer, late February to Mid-May. Listing your home in colder months would come with many cons like, improper or naught walkthrough requests, no space for necessary improvements, house look drab and covered in snow. Your home might sit back in the market for longer than expected due to the lack of home buying interest. Listing your home at the right time will give you better chances of selling quicker.
Do Not Avoid We Buy House for Cash Offers
We comprehend selling your home needs a lot of time, money and energy. If you are in a situation where selling your home is taking a toll on your head then sell it to us at Elite Properties. Selling your house to 'companies that buy houses for cash' guarantees you a profitable sale, as a bonus 'we buy houses in any condition' which means; selling home as per your convenience.
If you find yourself stuck in a rut and want to make a faster sale then contact us at 718-977-5462 or reach out at Elite Properties. Sell your house fast for cash and make the home selling process easy, we won't request for any documents or any efforts to stage your home.