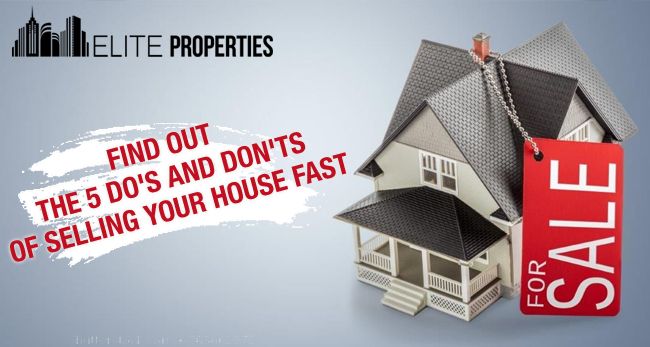 Selling a home is a daunting process, it is said to be a very exhausting period in a homeowner's life. The home selling process involves a lot of legal procedures and paperwork, which causes havoc. The whole phase is a combination of financial, physical, and mental concerns which an individual goes through.
In this catastrophic situation, we would like you to find out the 5 do's and don'ts of selling your house fast.
Significant Do's and Don'ts
Scroll down below to see the top 5 important do's and don'ts that will accelerate the home selling process.
Repay Debts, Keep Legal Documents In Place
Do's –
Firstly, it is important to keep your documents in order for the legal processes that will take place in the future. You will need documents like sale deed, mother deed, and other mandatory documents required for selling the home. Additionally, it is highly advised to repay the outstanding encumbrances, which will help in building trust with the potential buyer.
Don'ts –
If you miss any important document while preparing to sell your house, you might be in big trouble. A missing document will prolong the sale and you won't receive hefty profits on the property. If you misplace a deed the buyer will propose a lowballed price for your home, which is a big loss. Similarly, if you have any remaining debts, you must clear it off beforehand to obtain a decent credit score.
Preparing Your House For Sale
Do's –
Shabby conditions are not acceptable, you must make the required improvements to convince buyers. There are multiple prerequisites which should be satisfied before you list your house for sale. Basic things like moving the furniture and spacing out the area will do the trick. Decluttering of unwanted items will make your home look voluminous and airy, which eventually entices buyers.
Don'ts –
If you are carrying out improvements, you should keep in mind; overdoing the things will not help. As repairs need a substantial amount of money, it also requires an ample amount of time. It is suggested not to overdo unnecessary repairs or improvements, as it will cost you a handsome amount of money.
Market And List Your Home
Do's –
Marketing can create wonders. If you market a product rightly, it could lead to the right audience. Similarly, is the case with real estate, if you do appropriate property marketing, it will reach to potential buyers. To market the property start clicking good pictures and write a realistic description of the house, neighborhood and nearby places. Furthermore, you can print flyers, post free advertisements online, print advertisements in newspapers, etc. By promoting your house, you are creating a community of buyers that would be interested in buying your property. Stress on promoting your property over the web, around 80% of home searches begin with surfing on the internet, so why not be a part of the digitalization.
Don'ts –
Marketing is to promote a product's feature and make people utilize it. While all this is true, people think fake assembly of descriptions and pictures would entice buyers. Absolutely not, by writing fake descriptions and staging your home, you are creating a fuss for the future. Fraudulent sales are subjected as crime, it is better to portrait what is actually yours and keep yourself safe.
While calculating the value of your home, it is essential to set a realistic price for listing. Overpricing your home will lead to a loss and also it won't lure buyers. Furthermore, do not trust the myth that selling your home in spring is the only option to acquire bigger profits. A potential buyer will buy your house in any condition if he or she likes it.
Get In Touch With A Real Estate Agent
Do's –
Hire a real estate agent who knows the tricks of the trade. Make sure he knows about the locality, neighborhood, recreational areas, comparable properties, etc. A real estate agent will help in evaluating the actual price of your home and make your ship sail smoothly.
Don'ts –
A major mistake that most homeowners make is, they rely on the real estate agents very much. Although trusting isn't wrong, but the blind trust that people put on them could be scary. It is indispensable to conduct simultaneous online research to verify your real estate agent's evaluations.
A Checklist To Look At, Before Selling Your House
Apart from the given, there are many other aspects which are equally important as the do's and don'ts. We would like to provide you with a checklist that will help you in selling your home fast.
Take suggestions and feedback from the real estate agent positively
Calculate the fair market value of your property and then calculate the property's worth
Provide walkthroughs for potential buyers
Do not hand over the original documents before registration
Consult with companies that buy houses for cash for faster and profitable deals
Don't keep on rescheduling appointment with buyers, they lose interest in the deal
Repair sewage tanks and pipes
Light scented candles and put flowers around the corners of your home, as curb appeal is important
Take care of little things while providing a walkthrough, like keeping your pets out of sight from the buyers. Apparently, everyone is not a pet lover
Put bright lights in your home so nothing goes unseen or unnoticed
Don't let the emotional roller coaster hamper your home sale
Our Concluding Words
While selling a property is a strenuous task, the above do's and don'ts will make the process easier for you. Keep the mentioned points in mind, rest assured you will close the deal positively. If you are living in New York and suffering through the same problem, get in touch with 'Elite Properties'. They moreover help you with other real estate crisis and provide with precise solutions. If you want to sell your house fast, inherit a home or get in touch with real estate agent, call on this number 718-977-5462 and get your queries sorted.