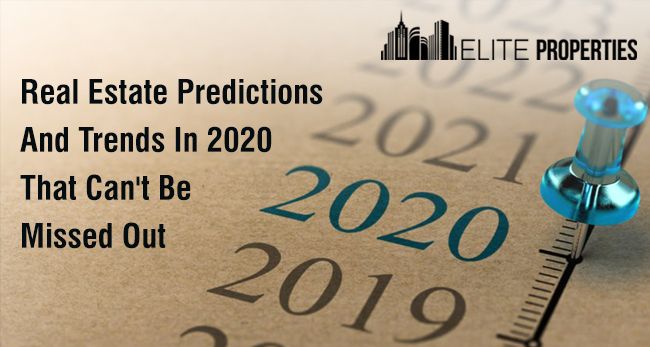 The housing market is ever – evolving and constantly fluctuating. As 2019 is coming to an end and 2020 is making its way, the real estate market seems to be a lot more fragile. There are a lot of real estate predictions and trends that will be witnessed in the coming year. The past decade had multiple changes in retrospect with the laws, technology and economy. We'll have a detailed look at what part of the demography will be affected the most. Questions like what chunk will fall in home buyers and sellers? Will the market favor mortgage rates or no? All these queries will be countered as we read further.
Check These Prediction by Experts before Investing In Real Estate  
Home Sales to Rise Gradually
The very first prediction by real estate gurus has been stated about the gradual growth of home sales. It is predicted that the home sales nationwide might touch around 6 million by year end and rise by point one percent higher by 2020. The chief causes for the rapid growth are the fiscal vagueness where home sellers hold on to their houses until the market booms in their favor.
Managing Inventory Will Be a Challenge
As home sales are going to rise gradually, the upkeep of inventory will face challenges too. If there would be a high demand of home sales across the nation then inventories in 2020 would be made more available. The housing market has been facing a lack of home sales since the year 2015 due to which there are few to nothing number of homes for sale, which is making it difficult to cope with the demands of home buyers. Although, there is an understatement that home inventories might escalate in Nashville, Seattle and San Jose.
Mortgage Rates Can Be a Debatable Talk 
The year 2020 will definitely raise talks as far as mortgage rates are concerned. Some say it may stay stagnant while some predicted it may rise for steeper rates. According to Freddie Mac, there won't be any major increase in the mortgage rates. As predicted in the year 2019 the rates for 30-year fixed-rate will be 3.7% and for the year 2020 it may rise by 3.8%, while the 15-year fixed-rate rate will be 4.4%. 
Refinancing Will Be a Continuous Affair
As the current mortgage rates are below 4% the home prices have risen steadily, which made refinancing pick pace during 2019's fall. This trend would be practiced a lot in the coming year as well. According to the Mortgage Bankers Association a study showed the 'Refinance Index' has been increased by over 134% in 2019 which made homeowners make use of the low rates and surging equity.
According to their forecast, the bar might rise by 789 billion dollars to 785 billion dollars with respect to single family refinance mortgage instigations.
Real Estate Trends That Will Take Place In 2020   
Tech Updated Real Estate Market
The latter half of 2018 and 2019 have been full of ibuyers, VR (Virtual Reality) and AI (Artificial Intelligence). 2020 again is going to be filled with technological inventions similarly, online selling will gain traction. Real estate market has been booming with full power and most of it is due to the use of technology, things like AI aids in better planning whether it is a commercial, public or private property. While artificial intelligence helps a lot with better planning, virtual reality aids in offering a better vision of your dream home, nowadays architects employ VR to help a clear idea of your property, explaining every nook and corners of your home as you walkthrough without moving an inch physically. As an eminent fact, about 50% of homes were found over the internet meaning; 50% of the population has been fallen in the chunk of ibuyers.
Millennials Remain To Be the Major Chunk of Home Buyers
After the Gen X generation, the biggest cohort of home buyers have been the millennials; they occupied 37% in the house buying arena which led them as the highest unit on home buyers. Millennials have been stated as the most tech savvy and smart people when investing or buying properties come into play. According to the research most of the millennials belong to the middle and upper-middle class which account for the 45% of the market, this automatically led the market and mortgage fluctuations. While millenials rule the 45% in the demographic distribution of home buyers share according to the year 2019 the Gen Xers stand on 37% while Baby Boomer occupy the 17%.
Offering Multiple Amenities to Gain Buyers
This has been the latest real estate trend which 2019 witnessed in the latter half of the year, offering multiple amenities to attract buyers has become the need of the hour. Smart homes are making a gushing entry in 2020, plush amenities like parking facilities, gyms, walking tracks and swimming pools are no more basic. Tenants require these as mandatory facilities these days, real estate investors on the other hand made sure the requisites are fulfilled.
Guide To Sell Your House Fast In 2020
As we have told above the real estate forecasts and trends that we will see in the coming year, home selling still becomes tough most of the times. Finding the right buyer might possibly take a toll on your head and make the home selling process difficult and time consuming hence, we have a guide that helps you sell your house in 2020 without any glitches.
You can opt for the traditional home selling process but we'd suggest you not to do so. Selling your property with cash buying companies will help in a faster and efficient sale. Elite Properties is one such cash buying company that buys and sells home without the hassles of getting into paperwork. The company will sell your house for cash which means they offer hard cash; also the company offers 'sell house as-is' service and additionally proposes a no-obligation offer.  
Elite properties will buy house in any condition and any location keeping in mind the Fair Market Value of your house which means there's only profit and no loss. So call us right away on 718-977-5462 or visit us at Elite Properties and rest assured home buying or selling is as easy as snapping fingers.