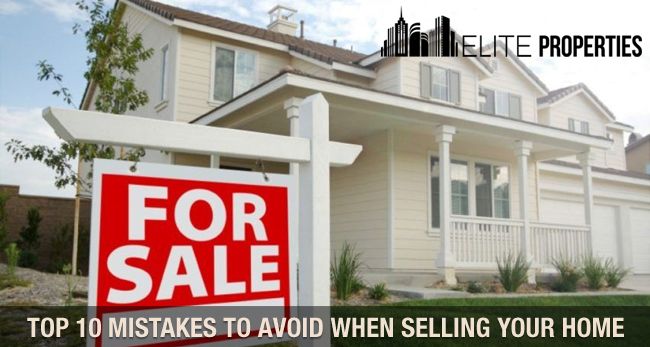 Selling a real estate property, especially your home can be a stressful and time-consuming affair. No matter how much knowledge you possess of the current real estate market trends, you could still make mistakes and sabotage the probability of selling your home at profitable prices. Keeping that in mind, we have rounded up 10 mistakes that you should avoid when selling your home in New York City.
Mistake 1: Emotional Involvement with Home
There's an adage, "A house is made of bricks and beams; a home is made of love and dreams" which is absolutely true. It's very natural to get attached to the place where you've nested for so long and shared good times with loved ones. Howbeit, once you decide to sell your home, you need to get over the emotional quotient and act like a businessperson. You might find it rude but you need to maintain an emotional distance. Otherwise, you might end up delaying the home selling process or won't be able to sell the home with a peace of mind.
Mistake 2: Not Hiring an Experienced Real Estate Agent
Although experienced real estate agents will ask for a hefty commission, it's still worth to approach them. A good real estate salesperson can guide you throughout the transition and optimize your efforts. With years of knowledge in the real estate market, they can help you get a competitive home selling price. In addition to that, they'll take responsibility for all the paperwork and legalities involved in selling your property. So, it's a wise step to hire a real estate agent in NY for a hassle-free transition.
Mistake 3: Keeping Unrealistic Hopes
Keeping unrealistic hopes when selling the home is one of the crucial mistakes that sellers tend to make and ultimately end up in smoke. Assume that you want to buy a house and the seller is asking for too much price as compared to other houses for sale in the same neighborhood. What will you do? You'll obviously look for other options available to you. Right? Likewise, no buyer will take an interest in buying an overpriced home. Therefore, setting up the price according to the market is the key to a successful home selling deal.
Mistake 4: Neglecting Necessary Repairs
The first impression is the last impression. Therefore, making a good impression on the potential buyers is important. Anybody who's willing to invest in the property would conclusively expect a nice cozy home. In such scenarios, a damaged home can become a deal breaker. Before putting your home for sale, you must do all the necessary repairs such as cracks in the ceiling, leaking faucets or unhinged cabinets. It'll leave a positive impression on them and increase the chances of a quick sale.
Mistake 5: Spending too Much on Repairs
As we explained, a seller must upgrade his/her home before putting it for sale. But sometimes, what happens is, a seller, go overboard with the damage repairs and eventually spend too much money on it. Bear in mind: Anything in excess is bad. Therefore, one should always spend their hard-earned money wisely. Just check out for the major repairs that need to be done and don't indulge in revamping the entire house. Else, you won't be able to earn any profit.
Mistake 6: Choosing the Winter Days
Winter is considered an off-season for real estate market as compared to other seasons because the number of active buyers during this season is very less. According to recent studies in the real estate industry, the main reason behind it is people either go on holidays or stay at home during the chilly days. Selling your home in winters might adversely impact your house selling process and bring you less marginal value. So, you should avoid selling your house in winter.
Mistake 7: Skimping on Listing High-Quality Images
Nowadays, people have become tech-savvy. The first step they take while buying a house is checking the images of the house for sale on the property listing page. This clearly implies that pictures are utmost important. Having said that, refrain from uploading poor quality pictures as they can lead you in the opposite direction. It may trigger the potential buyers not to visit your home. To be more precise, simple pictures won't do the job. You'll need to have high-quality images showing fine details of the house. So, showcase the best assets of your house with HD images and increase the chances of selling the house.
Mistake 8: Not being insured
Are you insured? "Why? How does it matter?" Well, this is the reason why most people neglect the insurance part. On an average, less than 50 % sellers are properly insured in NY. There are thousands of good reasons you might give for not being insured but, if you want to sell your property safely, you must be insured. Let's say a potential buyer meets an accident on your premises and makes false allegations on you or for instance, your dog bites him/her, what will you do? He/she might sue you and ask for money. In such cases, the insurance company will be your savior.
Mistake 9: Faking It
Sellers often make big claims regarding their property and make false promises to the potential buyers for selling the property fast. Well, the buyer will definitely be conducting a home inspection before sealing the deal, and he/she may say a big NO on finding out the reality. Therefore, don't fake anything and keep it simple.
Mistake 10: Signing a Purchase Contract without Basic Inquiry
You must ask the buyer for the pre-approval letter before you close the deal. For instance, you're selling your home for $400,000, and the buyer agrees. Well, congratulations! That's what you've wished for. This is where you're mistaken! Never trust anybody without inspecting their mortgage loan approval documents. Stay alert from fraud buyers and scrutinize everything before you sign the purchase contract.
Final Word
Avoiding these 10 home selling mistakes would explicitly ensure a painless home sale. Further, choosing a "we buy houses for cash" company in NYC would help you maximize your profits. You can contact 'Elite Properties' which is one of the most reputed real estate companies in NY for selling your house quick for cash. Apart from the rich experience they hold in the real estate industry, they also implement digital marketing strategies like social media marketing and blogging proactively to sell your property within a short span.