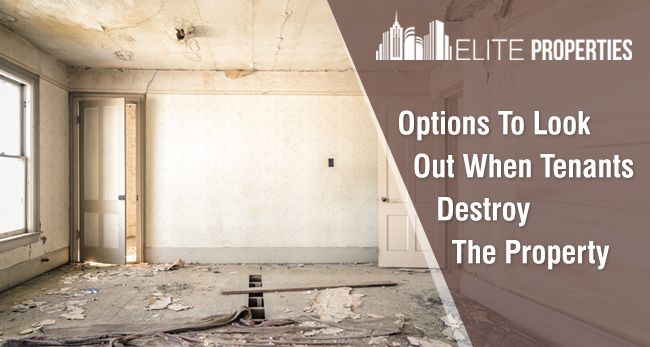 Your house is an asset that is near to your heart, we comprehend the amount of damage that tenants may cause just by taking the property for granted. No matter how thoroughly you screen your tenants there are always some of them who would damage your property. Keeping up with the tenants can be a devastating phase, which can make you suffer mentally as well as monetarily. Although, as difficult it is there are many ways where you can save your house from being damaged and also make the whole process less painful.  
Tenants can be really fussy and can create a lot of damage. Damages like harming the property, breaking the furniture, punching holes in the walls, cracking tiles, damaging wood floors, etc. are some tenant damages done by them. These situations might take a toll on your head and leave you in a rough state. As difficult the instances are there's always a solution for it, scroll down below for options to look out when tenants destroy the property.
What to Do In Such Circumstances?
The initial step is to educate yourself and understand the law and causes of the destruction. Damage can be caused due to innumerable reasons like natural calamities, intentional negligence, etc. In some states, if the damage isn't caused due to any natural hazard then the tenant is liable to pay for the financial recompenses to the homeowner. Although, the only difficult part of the whole chaos is to tackle the situation peacefully.
There are different ways to tackle different situations, some of the cases are given below for your reference.
If Your Tenant Is Still Residing In Your Property
Documentation –
It is extremely important that you document everything for further references, so that any action you take in the coming future has a written justification or evidence, respectively in case if there is any court case involved. Another point to remember while you document things is to take high-resolution pictures of your property before your tenant moves in. Additionally, maintain a document in which the tenant agrees to his or her responsibilities inclusive of the quotes that contractors provide for repairs that will justify the costs.
Talk With Tenants For Negotiation –                             
In the occurrence of accidents, if there is any damage to your property then the best way out is to talk with your tenant. If your tenant has had a good reputation in the past then you shouldn't escalate the issue, talking with them and negating terms will do the job.
If the tenant proposes to do the job by themselves and handling the whole situation then it is a good step towards a peaceful end. If at all the tenant is unable to pay for the damage then try to come with a plan that suits all like partial or monthly payments, this will keep the transaction flowing smoothly. In the end, all you have to do is to keep calm and never forget to document every little detail that the tenant has agreed upon.
Part or Full Deduction From Security Deposit –
Security deposit is the best thing to be touched down when you and your tenant can't boil down to mutual conclusions. Security deposit is a chunk of amount given to the landlord before the tenant moves in. The security deposit can be refundable or non-refundable, this is completely dependent upon the agreed terms between the landlord and tenant respectively.
The landlord has legal rights to deduct a part or complete security deposit if your tenant has caused any damage and is not ready to recompense. If the money is not covering the full price of your damage then you can move on to other option like filing a lawsuit.   
Consider Filing a Lawsuit –
If the tenant is stagnant and won't agree to pay for the repairs then you might want to consider filing a lawsuit against them. Although, if the price of the damage is not much or is bearable then the best option is to elude any legal collaboration. You wouldn't want to spend extra money or time on certain things, it is better to keep the security deposit and let go.
If Your Tenant Is Being Violent And Dragging Issues Unnecessarily
Filing For an Eviction –
If nothing works, then in the end, all you can do is evict the tenant, if he/she is behaving aggressively with you or is damaging your property on purpose. Although, eviction is a slow process and it can often get complicated hence, it is advised to do your research well before taking any step.
Bringing It Under The Police's Notice 
If your tenants still won't pay heed to your actions, your next step towards this should be involving the police and telling them about the whole scenario. As told earlier, documenting the entirety is really important as involving police can be tricky, and things may take a bad turn. It is crucial to keep all the evidence in place. Furthermore, it becomes easy for the police to intervene and take possible actions depending upon the situation.  
Considering 'Cash for Keys' As Your Option –    
If you want to elude all the hassles of a problematic tenant then cash for keys is the best option to go with. All you want to do is offer a few dollars to the tenant to avoid the rounds of any legal procedures, as it may be not the ideal scenario for a homeowner but it will prevent the upcoming damage.    
If Your Tenant Has Left Or Is Non-Responsive
Take The Legal Way To Confront The Situation
In most cases, the tenant damages your property and leave no traces of their existence, so what to do when you find yourself stuck in a rut? If your tenant has disappeared post damage or doesn't take initiative to resolve the issue, you might have to invite legal jurisdiction into the issue. You can hire an investigator or an attorney to find your tenant and carry with the legal procedures further. This is an extreme and sporadic case where a tenant doesn't show up or has to be tracked down.
Consider Filing an Insurance Claim                              
The easiest way to cover your tenant damages is to opt for claiming insurance. If your tenant has caused any damage intentionally or unintentionally then the smartest way out is claim insurance and cover the damages. If you don't want to do so you can choose not to claim the insurance and pay for the improvements from your pocket, which won't be the smartest decision.
We Buy House for Cash; Any Condition, Any Location
After perceiving all the scenarios stated above, you might choose the best suitable option for yourself respective of your tenants and the damages they've caused or causing. Lastly, we can tell as some damages can be covered while some may leave you stranded, in such instances it is best to sell your house for cash.
Selling your house to cash buying company will aid in a profitable sale meaning your house will be sold on the basis of FMV (Fair Market Value) and as-is. We at Elite Properties will help you in selling house in as is condition and give you the best offer on your damaged property. Not leaving behind, they will also provide the best possible solutions for your tenant related issues. You can reach out to us at Elite Properties or call on  718-977-5462.