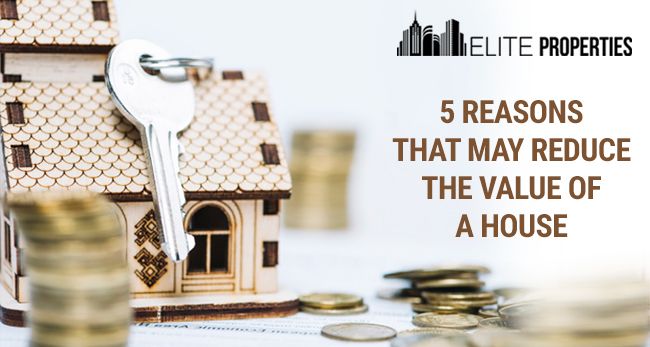 We know there are many reasons to enhance the curb appeal of your house and increase its resale value. Many homeowners, although, are not aware of the reasons which may reduce the house's worth. Selling your house needs a lot of attention either with the upkeep or the functional aspects of the structure. A buyer on the other hand will check the aesthetical appearance as well as the condition of the house.
Factors like bad location, old construction and crime rates can potentially lower the value of a house. It is a well known fact that a good house will never sit in the inventory for long time. If you are a seller and want to sell properties online, you must check the '5 Reasons That May Reduce The Value Of A House'.
Following are the points which may reduce your home's worth –                                  
A Shabby Exterior Facade
If you want to sell home fast for cash, a good looking exterior is must. Potential buyers pay attention to the exterior surfaces as nobody wants the extra maintenance cost while buying a house. As wisely put, 'The first impression is the last impression' it applies in home sales as well. According to a survey, potential home buyers only take 10 seconds to like property, just by looking at its exteriors. Conclusively, it is always a good to maintain the home's exterior beauty to sustain its value in the market. By adding a fresh coat of paint, mowing, and cleaning the lawn may make a huge visible difference.
Inefficient Energy Ratings
Since 2018 energy performance certificates were introduced in the market to comprehend the energy efficiency of a house. Energy efficiency is correspondent to the pricing of a home, higher the ratings higher the property prices will be. It is illegal to sell or put your house on rent if your energy-efficiency rating is below 'E' on the unit. Many buyers end up purchasing the property and paying huge electricity bills reason being the poor energy ratings. A good energy rating can shoot your home's worth by approximately 14%, which is a great profit margin for home-sellers.
Poor Locality
A locality is a compilation of good schools, hospitals, departmental stores, no crime rates and easy access to multiple places. To sell your house fast for cash in NY it becomes essential to have basic amenities accessible. A study shows how proximity to certain places can decrease your home's worth by specific amount of percentage (sources).
Bad school - 22%
Strip clubs - 14.7%
Homeless shelters 12.7%
Cemetery - 12.3%
Funeral homes - 6.5%
Power plants - 5.3%
Shooting ranges - 3.7%
If your home is around these places you'll have to work more on the aesthetics so that no one walks past by your house. Additionally, foreclosures in the neighborhood make a bad impact on the home sale. While selling your house, appraisers look at the comparable selling price in the neighborhood. The comparable price plays an important role in estimating your property's worth and foreclosed houses may turn down the appeal.
The Escalating Mortgage Rates
The formula of home selling predominantly depends on the mortgage rate in the market. High mortgage rate means fewer buyers whereas; low mortgage rate means more buyers. Potential buyers usually start their hunt when mortgage rates are low as the monthly repayment fits in their budget.
Home affordability decreases for buyers when the rates are high as they pay extra over the life of a loan. As a seller, increased mortgage rates don't help you to sell your house fast. Your home isn't valuable for buyers because they pay extra on the home as well as the mortgage repayment.
Additional Points To Consider
We've spoken about the aesthetics or the curb appeal of a house, which plays a huge role in home selling. There are certain things which lower your house's worth like installing a pool, doing excessive DIYs, cluttered rooms, poor HVAC systems, etc. 
There are specific things to keep in mind before listing your home in the market –
Take care of the plumbing and upkeep
Remove the shabby wallpapers
De-clutter your house; get rid of the extra things in your home
Keep the decor to minimum
Remove the carpets which covers the whole floor
Mow and clean the lawn, whether it's a front or a backyard
Get rid of invasive plant species or climbers
Keep your pets at pay (while walkthroughs)
We comprehend a house is not just a structure it also has many memories attached to it. Suicides or violent deaths in a home can be a big reason for people to back out from buying it. It is advised to disclose little details to build transparency with potential buyers to avoid hassles later.
The Takeaway
Selling a house is a daunting task and there are multiple things which may add and reduce the value of your house. If you want to sell remodeled houses or you want to sell your house as-is, get in touch with Elite Properties. We buy houses for cash which allows you to employ the yields of the sale as per your preferences. Additionally, we buy houses in any condition that eludes the hassles of maintenance and legal processes.
If you have other queries related to the topic or you want to know more about home selling process call us today 718-977-5462.