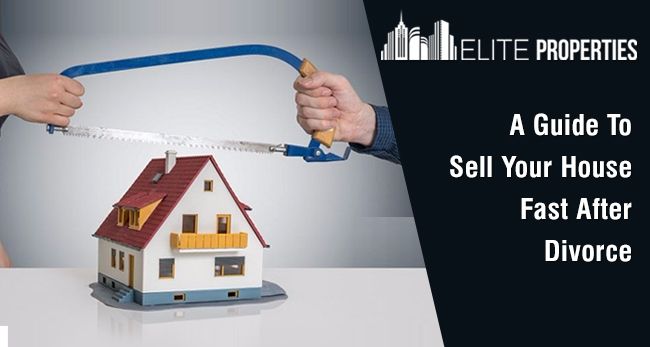 A home is an extremely big asset for couples. When a couple chooses to separate, the relationship as well as the house also goes through a lot. A divorce comes with a lot of deliberations and mutual agreements which is important for a longer run. Here, your part is to decide whether you want to sell your house or buy out to your spouse. Given below is a guide to sell your house fast after divorce which will help you with your existing chaotic situations.
If you have chosen to sell your house, there are many things down the lane waiting for you. Selling your home is a long and lengthy process, it isn't a smooth run. In such a case, the best way out of it is to talk it out with your partner. Mutual decisions goes a long way and where real estate is involved it can be extremely expensive and hard on pockets.
Sell and Split
The best option which will reduce the disagreements is selling your house and splitting the proceeds of the sale equally. Why selling your house is a feasible option? First, neither of the spouses can afford the maintenance of the property. If the couple has kids it can double the expenses, with the ongoing expenses of divorce it can be a tough situation to tackle. Selling your house for cash is a feasible option because the proceeds of the sale can be split equally. Therefore, selling your house is an optimal solution for multiple reasons.
Buy Out the House
The second option is to buy out the house which means; the spouse who wants to maintain the ownership would recompense the other with half of the share. They can share a part or whole value of the house which can be transferred to the other half as a settlement of the divorce. Here, the spouse on the receiving end gets to keep a part of the house and receive the calculated share once it is sold.
Hold On To the House
If a couple with children is getting divorced, they would choose to hold on to the house. In this case, the couple can hold on without altering the ownership. You can choose to stay until your children move out for work. This can only happen when the couple can bear each other's differences and think financially.
Sorting Out the Mortgage
Before taking a step to sell your home, you will be accountable to ask questions to yourself. Questions like what are your income requirements if you chose to keep the house and retain ownership? What aspects would come into play if you sell your house? Will my children be affected by the decision, what are their needs? Etc. Once you know the answers, you can move ahead.
If a couple has a joint mortgage, they usually prefer to sort the mortgage on a single name (either of the spouse's name). It is beneficial from both sides because the person residing in the house won't rely on another half for the mortgage. Lastly, the person who discards the name form the mortgage can lend more money for a new home as they are exempt from the joint-mortgage.
Understanding Your Property Rights
A house is an immensely big asset for one to keep. If you are going through a divorce, it becomes necessary to protect and understand your property rights. Securing property rights save you from any felonies that your partner does without any knowledge. Home rights ensure neither partner can't be forced to vacate the home even if it is under their ownership or not.
It is important to be aware of the laws and regulations while going through a divorce. The "Family Law Act" gives access to:
Staying in your home unless a court order states to vacate the residence
You will be notified of any repossession action taken by your mortgage lender
If you have moved out, you can urge the court to grant permission for returning back
Sell your house fast for cash
As stated earlier in the blog, selling your house is the fastest solution after a divorce. Selling your home to cash buying companies eludes the chaos of legal processes and additional costs. Elite Properties is a reliable company when you choose to sell your house fast for cash. We buy houses all cash so you can sell your house within 3 days and move on with a new life. Rest assured we will buy a house in any condition, any location.
A divorce is a tiresome process that can drain you mentally. Selling your house for cash will save your time, money and energy, you can spilt the yields and move ahead with the rest of your plans. If you have any queries regarding the same you can call us on 718-977-5462 or visit us at Elite Properties we will provide you the best possible solution in your rough time.