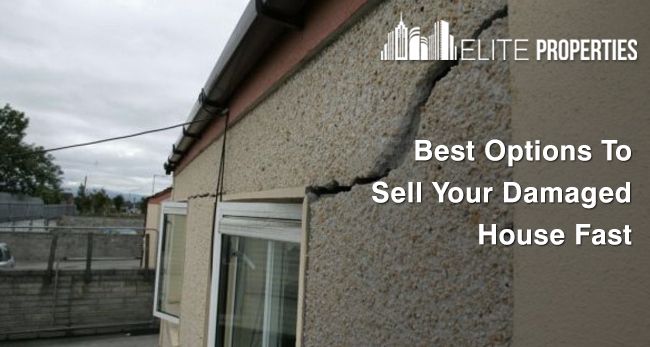 If you are a damaged property owner, you are certainly looking for selling your damaged house fast. Damaged houses prove to be a big cost consumer, it clutches a lot of repair costs which can't be covered just by your equity. We understand selling a damaged house is frustrating and stressful as it needs repairs and your situation as a homeowner is desperate. Hence, we would like to provide you with best options to sell your damaged house fast. Whatever the condition of your house would be, we will promise a guaranteed sale.
Reasons That Cause Damage to Your House
There are multiple reasons that cause damage to your house; natural calamities or peculiar occurrences of events the array is extensive. Natural crisis like strong gusts of wind, heavy rainfall, tornados, hurricanes, hail storms and fire are some of the major reasons that damage your house enormously. Other than natural calamities instances like bad tenants, theft and vandalism are also some of the causes of damage to your property. While these instances can't be ignored, the best way out of it is to sell your damaged house fast. As considering improvements will be extremely costly.
Why Repairing Is Not a Feasible Option?
The reasons stated above can extensively damage your house. If your home is damaged due to the natural mishaps it will definitely cost you thousands of dollars which is still not enough. These damages require a lot of money that can leave you broke. In some instance the damages are so major that repairing the house will cost you twice the retail price of your house. Repairing a ceiling or flooring will consume maximum of your saving while else will only add up to costs. If you're considering repairing as your option, think twice as it will consume your time, energy and a big chunk of capital.
While repairing is not a feasible option, you can always think to sell your damaged house fast to we buy houses for Cash Company. You can sell your house within 3 days to us at Elite Properties and we will propose you with a no obligation, all-cash offer.  This will provide you with fair amount of money in hand in return to your damaged house which will help in funding for your new shelter.
Location Plays a Vital Role
Similar to other reasons selling your damaged house requires a good location. When you have a damaged house in a bad location, it will certainly require a lot of filtration. People perceive some neighborhoods as bad although the surrounding might be pleasing. In a nutshell, bad location will affect your home sale negatively.
For example: A house near a school is considered as a good location while a house near railroad tracks is labeled as a bad location for evident reasons.
If you are residing in a bad location or a bad neighborhood you can put focus on the good points to sell your house fast. A right approach is to lower the price of your house and emphasize the features of your house. If you are residing in New York you can sell it to us, we buy houses in any location.
We Buy Houses in Any Condition
Sell your damaged house as-is to Elite Properties. Selling your distressed property to us will save you money and time. While selling through a real estate agent will take you ages, selling your damaged house to us will cut the repair costs. We will close the deal in less than a week so you can devour the perks of working around your timeline.
The burden of repairing a damaged house is taxing and lengthy, selling it to cash buying companies is the most convenient way out of the chaos. Elite properties makes your life easier with fast closings and all-cash offer. If you want to sell your damaged house fast, call us here 718-977-5462 and we will buy your house in any condition and any location.