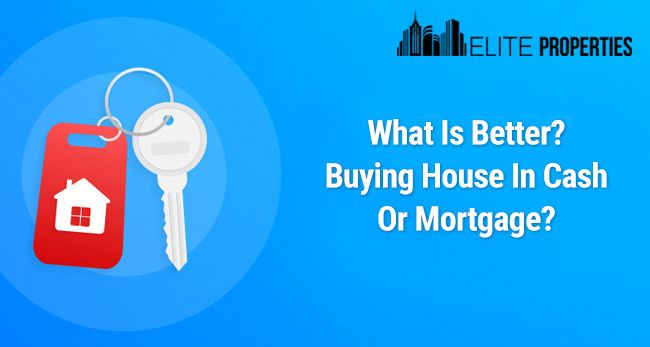 There is always a debate amongst people about what is better? Buying house in cash or mortgage? In this blog, we will try to clear the picture and try to help you in the home selling process. A lot of finance experts say buying a house in cash can avoid drowning in debt. Although, the other half believe in getting a mortgage and repaying it over the 15/30 year mortgage. Every method of purchasing an asset has its pros and cons. We will share an overview of each method and how it varies in each situation.
Why One Must Buy House In Cash?
In simple terms buying your home in cash allows you to avoid foreclosures and you are free of debt. You have complete ownership of your asset as you buy the property in full cash. Although, every scenario has its pros and cons, scroll down below to know more.
Pros Of Buying House In Cash
One of the big reasons to buy house in cash is free cash flow. If you buy house in cash you aren't entitled to pay monthly mortgage instalments. It allows your income source in multiple bifurcations as per your convenience and needs. Although, you'd still be paying the homeowners association fees, property taxes and maintenance costs, homeowners insurance, etc. You will pay these extra costs even if you don't get your house on mortgage. When you buy house on a mortgage, you pay a big chunk to the lender whereas in this case, you avoid it entirely.
Save A Lot On The Interest
If you purchase a house on cash, you can save a lot on the interest of the mortgage. When you take out a mortgage, the interest rates are bound to escalate over the tenure. Example: A mortgage of $170,000 having a 4.375% interest rate costs you around $135,000 as of the interest expense for 30 years. Furthermore, mortgage debts are one of the cheapest in the USA if calculated on the APR (Annual Percentage Rate) basis. So, buying your home in cash might save a big chunk on the repayment.
You Are A Preferred Prospect
Sellers always prefer cash buyers as the deal closes faster. When a seller sells the property to a cash buyer, it only requires the buyer's due diligence and mutual closing date. Whereas, when a buyer applies for a mortgage, he/she has to work on a lot of things. Things like the verification process, legal documentation, the underwriting process, etc. The real estate market is big, but sellers usually pick cash offers as they are enticing and close faster. Also, cash offer allows negotiation in closing costs as you trade in hard cash. If you are a cash buyer you'll be the preferred prospect instead of the one with a mortgage.
Faster Closings And Lower Closing Costs
When you buy a house in cash, you avoid paying the associated loan fees. Also, costs like the originating fee, mortgage insurance premium, credit card report fee, etc. A cash offer may help you get away with legal processes and verification. Remember, an all-cash offer is less than the traditional bidding price. Getting paid in hard cash eventually is better than the orthodox mortgage bid, which is time-consuming. Additionally, as stated above, you close a deal faster with flexible closing costs.
Cons Of Buying House In Cash
Tying a Lot of Money in One Asset
If your property is worth $150,000 and you are a cash buyer, it can be quite risky. If you invest a large amount of your savings in one asset, you are tying up a lot of money. Such transactions do not show a positive outcome on your credit score.
The real estate market or a house is an illiquid asset, which means it is difficult to sell it fast. Selling a home is time-consuming and a daunting task. Assets like bonds and stocks which have high liquidity are easy and quick to re-sell whereas, a house is not. Therefore, putting a lump sum amount in one asset is never ideal as it slumps access to the liquid assets.
Missing Out On Tax Benefits
The itemized taxes may help in putting the money back in your kitty. You can deduct a lot of amount on mortgage rates through itemized taxes. Itemized tax deductions levy on multiple assets; it is advisable to check the taxes before purchasing. If you are using cash as your primary payment source then you are definitely losing some good tax benefits.
You Are Left With No Savings
Buying a house in cash blocks your savings, and you have nothing, which means no emergency funds. It is always advisable to keep petty cash handy during an unexpected crisis.
Why You Must Consider Getting A Mortgage?
Buying a house on a mortgage allows in maintaining your savings and caters to the funding. Many people do not have enough savings to buy a house on cash. Prospects get a mortgage and keep building the equity over the tenure of repayment.
Pros Of Buying A House On Mortgage
When you get a mortgage, you have the flexibility to put your savings in other investments, which promises good returns. You can pick from innumerable liquid investments and grow your wealth and manage your monthly payments as well. Buying a house on a mortgage is always a better option as you have more flexibility to manage the money.
Comprehending the pandemic and the current state of the market, it's a better option to opt for a mortgage. The mortgage rates are low, and the inventory has houses sitting for potential buyers. Hence the above makes it an ideal situation for purchasing a home.
Improve Your Credit Score
If your credit report shows timely repayments, you will ultimately have a good credit score. Unlike buying a house with cash, it is essential to show the diversity of debts for a better credit profile. The credit reporting agencies prefer timely repayments of debts inclusive of the home loans. It improvises the borrower's profile allowing them to get a faster mortgage and boosting the credit score.
Advantages Of The Tax Deduction
Mortgage debts are tax-deductible, which means more benefits for the person getting a mortgage. Married couples planning to buy a home can write off interest taxes up to $750,000 if filing together. If you are filing separately, you can write off tax interest up to $375,000. Post the tax reform in the year 2018 write-offs, were not as profitable. Although it still is beneficial for homeowners with outstanding mortgages.
Cons Of Buying A House On Mortgage
The Intricate Mortgage Process
It's no hidden truth that getting a mortgage can be a really daunting and tiring process. You have to keep a track of all financial documents inclusive of your IDs, which can be frustrating at times. Lenders will ask you for every detail and if you miss even a single document, you won't qualify for the loan.
Paying Mortgage Insurance Premiums
When you pay less than 20% on the property, having a mortgage insurance premium will be mandatory. A mortgage insurance premium is an addition to your monthly mortgage payments. Insurance is an added cost to secure the lenders in events if you miss out on paying the instalments.
Drawback Of Additional The Costs
When a mortgage has lenders involved, it always comes with extra costs. The buyers are liable to pay lender fees, closing costs, mortgage origination fees, and appraisal fees. These additional fees can add to the existing cost and make the purchase even more costly.
You Still Don't Have The Ownership Of The Property
When you buy a house on a mortgage, the lender has ownership while you keep making the monthly payments. They are entitled to hold your property until the last instalment. If you fail to pay a consecutive number of instalments, there is a high risk of losing your home.
Bottom Line
We know buying and selling a home is an overwhelming task. It can be a very confusing, lengthy, and mentally draining process. We tried to cover the pros and cons of buying a house in cash or by getting a mortgage. So choose wisely keeping in mind your monetary status and plan futuristically.
If you are planning to sell your house fast for cash in NY, get in touch with Elite Properties. It is a 'We Buy Houses For Cash Company' which means you can sell your house fast for cash. Give us a call on this number 718-977-5462 and we'll help with fast home selling.